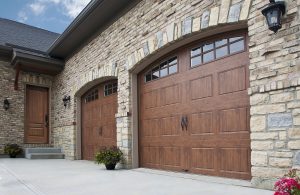 "What's the best garage door for me?" is a question our team at WM Garage Doors faces on a regular basis. Having been in the garage door industry for more than 20 years we know all there is to know about garage doors. We supply and install doors from all the leading manufacturers and can install any type, style and colour of door you wish. But the answer to this question really depends on YOU and what you want from your garage doors.
Are you looking for a garage door to complement the appearance of your home or do you want a secure garage door to keep your family, home and belongings safe? Do you want the best garage door for your budget or are you looking for a door that will give you more room on the driveway? Let's have a look at some of the best garage doors for you, given a particular circumstance.
What's the best garage door to keep my home secure?
Security is a major concern for all homeowners. Whether you use your garage to store your car in overnight or have transformed it into an all-purpose gym area, the last thing you want is an intruder gaining unwanted access to your property. A recent report found that up to 10 per cent of burglars break into garages in order to raid a home. You can reduce that risk by buying one of our several security garage doors.
At WM Garage Doors we can supply you with a Hormann sectional security garage door that boasts an anti-theft kit, which are practically impossible to force open, or a SWS garage door that comes complete with the Secure By Design accreditation.
Check out our full range of security garage doors today.
What's the best garage door for my budget?
At WM Garage Doors we have a garage door to suit all budgets. Our doors start from £249 and we require no deposit, free door removal and are an official manufacturer partner.
We supply all types of doors, from time-saving electric garage doors, convenient side-hinged doors and affordable up and over garage doors, alongside various styles like canopy garage doors, carriage style garage doors and traditional garage doors. We can also offer you your perfect door in the colour of your choice. You can also choose from a selection of materials including wooden, uPVC, metal garage doors and fibreglass.
Take a look around our website and view the doors we supply. Then contact our sales team on 01922 300450 with your budget and requirements. Your dreams could become a reality.
What's the best garage door to give me more space on the driveway?
If you are looking for more space on the driveway then we would highly recommend a roller garage door. Designed to roll up vertically instead of swinging out first and hanging overhead, roller garage doors can give you an extra 10-12 inches of space on your driveway. This could make a huge difference if you have a big car and your vehicle sticks out on to pavement or you need regular access to your garage.
What's the best garage door for my property?
Again, this all depends on your home and how you want it to look. We have a range of modern garage doors and traditional doors with everything in between to choose from. As a proud homeowner you will have an idea on how you want your home and garage doors to look, but our experienced team can also offer our expert advice.
View our great selection of garage door styles here.
Of course, the obvious reply to the question of "what's the best garage door for me?" is "WM Garage Doors has the answer for you!".
For full details on our extensive range of services, call 01922 300450 or email [email protected]